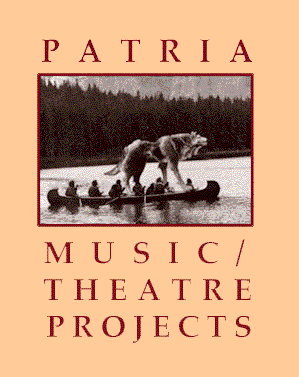 Patria Music/Theatre Projects: History of the Organization
Patria Music/Theatre Projects was formed in 1987 by R. Murray Schafer, Jerrard Smith, Diana Smith and Thom Sokoloski to produce or assist in the production of Schafer's Patria cycle of large-scale environmental music/theatre works. The initial productions undertaken by the organization were The Greatest Show in Peterborough in 1987-88 and The Black Theatre in Belgium. Over the next few years, productions were undertaken by Autumn Leaf Performance, then in 1995, Patria Music/Theatre Projects was revived and reincorporated with charitable tax status.
The recent focus has been the productions of The Enchanted Forest in 2005, The Palace of the Cinnabar Phoenix in 2006 and The Princess of the Stars in 2007 at the Haliburton Forest and Wildlife Reserve. We are poised to move ahead with the reaization of these unique works.
Return to Patria Homepage