Michael Waterman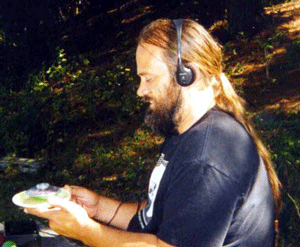 Michael Waterman is an audio and visual artist who works in radio, sound installation, and improvisational performance. A founding member of the audio collage ensemble Mannlicher Carcano, Michael created the Mannlicher Carcano Radio Hour in 1998 at Trent Radio in Peterborough, where he was audio artist-in-residence from 1999 through 2002. Since fall of 2002 the show has aired on CFRU.FM 93.3 at the University of Guelph on Saturdays from 3 to 4 p.m. EST. Members of Mannlicher Carcano in Los Angeles, Winnipeg and Guelph perform live weekly audio improvisations via telephone conferencing and web streaming. The group was profiled in Musicworks 84, and the show may be heard at http://uoguelph.ca/cfru/listen.shtml
Michael was artist-in-residence at Full Moon Over Killaloe in 1999 and 2000. His work has also been heard at Sound Escape: an international conference on acoustic ecology (Trent University, 2000), Sound Unbound (Ottawa 2001), the Center for Research in Computing and the Arts at the University of California, San Diego, and Beyond Baroque Gallery in Los Angeles. His sound installations have been featured at Cal State University, Long Beach, and at Ed Video in Guelph (as part of the 2003 Guelph Jazz Festival). Michael's recordings include two programs on Radiant Dissonance I, a five-CD compilation of 10 audio art radio programs published by CSIRP. With Mannlicher Carcano he has also released works on Chicago's FDR Recordings Time Capsule 5 (2000) and Belgium's RRs.R lable (Difficult Music for Difficult People II, 2002). In 2004 Michael will present both his installation Robochorus and a performance piece based on Nanook of the North with Mannlicher Carcano at the Sound Symposium in St. John's, Newfoundland. Michael completed his M.F.A. at the University of Guelph.
Chris Clifford
Lighting, Media, and Stage Designs for hundreds of productions, including; Patria Music/Theatre (RA, Princess of the Stars, Palace of the Cinnabar Phoenix, The Enchanted Forest), Caravan Stage Co, VideoCabaret, Soundstreams, Kensington Carnival, Sound Image Theatre, Jumblies Theatre, Shaw Festival , Randolph Academy, Puppetmongers, Shadowland, Necessary Angel, 4th Line Theatre.
Production Manager for many companies, including VideoCabaret, Theatre Gargantua, The Arbour Festival, Clay & Paper Theatre, 4thLine Theatre, Modern Times.
Angela Thomas
Angela Thomas is a costume designer, who has lived in Canada most of her life. She works predominantly in Toronto theatre, and the surrounding wilds of southern Ontario.
SELECTED TORONTO THEATRE CREDITS
November 18, 2011 -- Hallaj -Buddies in Bad Times Theatre - Modern Times Stage Company
April 01, 2011 -- Lost Voice -Topological Theatre
March 05, 2008 -- Waiting For Godot -Modern Times Stage Company
April 06, 2006 --The Golden Thug -Buddies in Bad Times Theatre
February 25, 2006 -- Bloom -Modern Times Stage Company
September 30, 2004 -- e-DENTITY -Theatre Gargantua - Artword Theatre
November 20, 2003 -- NOd -Theatre Gargantua
October 31, 2003 -- Stories from the Rains of Love and Death -Modern Times Stage Company - Artword Theatre
March 27, 2003 -- Blues, The -Theatre Passe Muraille
March 13, 2003 -- Time After Time: The Chet Baker Project -Buddies in Bad Times Theatre - Crow's Theatre March 12, 2003 -- Walls Of Africa -Alianak Theatre Productions
April 18, 2002 -- Thunderstick -Theatre Passe Muraille
March 14, 2002 --The Great School Crisis -Theatre Passe Muraille
March 11, 2002 -- Walls of Africa -Alianak Theatre Productions
January 19, 2001 -- Pains Of Youth -Theatre Voce
WORKSHOPS 2012
Summer workshop schedule:

The Asterion summer workshops provide an opportunity for members of the public to participate in the development of Asterion by working with our invited artists on specific events withing the labyrinth.

June 16-17

Artists: Michael Waterman, Angela Thomas, Chris Clifford

July 7-8

Artists: Reinhart Reitzenstein, Jerrard Smith

Workshop participants are welcome to arrive Friday evening in preparation for a full day Saturday. The site is near Peterborough ON. Directions will be provided once you register. The cost is $250 per person and workshop participants camp on site. Food and facilities are provided.

To register or for more information, pleasecontact us